Friends!
Thank you for visiting my website.
Let's spread the music, the kindness and the love!
We had a very busy 2016, and 2017 will surely be busy too — and different —
new songs, new places, pictures and videos, and as always, I am thankful for my blessings.

One of my greatest blessings is seeing YOU & your beautiful families out there along the way.
Love,
Karrin
---
A little "Sweet Emma" from our recent appearance at Birdland for you. Miro Sprague, piano, Ed Howard, bass, Adam Cruz, drums & Steve Cardenas, guitar. Great band!
https://www.youtube.com/watch?v=OnJr3JJ5j3A
---
Please check out my new song,
"Big Discount"
, casually recorded during a soundcheck just after the election— more to come…
https://www.youtube.com/watch?v=T-87o1iDYuQ
______________________________
'Don't Worry About a Thing (Cause Nothin's Gonna Be Alright)' at Greene Space, NYC:
'Cinema Paradiso' from Greene Space, NYC:
2016 GRAMMY NOMINATED JAZZ VOCAL ALBUM OF THE YEAR
BUY MANY A NEW DAY / iTunes
BUY MANY A NEW DAY / Amazon
Check PHOTOS tab for shots from GRAMMYS 2016 & more.
"Many a New Day" Reviews:
Associated Press: "Masterful"
USA Today: "Beautifully Nuanced"
NY Times: "She aces the tightrope walk of songbook reverence and jazz-vocal breeziness that often proves elusive on such an album"
DownBeat: "A brilliant album that bridges the worlds of jazz and musical theater"; "Allyson may be the perfect singer to reinterpret Rodgers & Hammerstein for a modern, jazz-aware audience"
JazzTimes: "An Exquisitely Thoughtful Trio Album, it's Also an Important One"
The Sunday Times: (UK)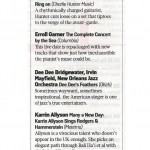 Record of the Year Pick
Jazz Journal (UK):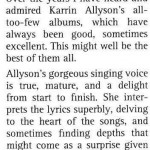 "Allyson's gorgeous singing voice is true, mature, and a delight from start to finish. An absolute must."
MOJO (UK) 
February issue of MOJO
---
jazzpolice.com

City Pages (Minneapolis)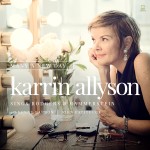 » I'm excited to announce my new album 'Many A New Day: Karrin Allyson Sings Rodgers & Hammerstein' is now available for order on iTunes and Amazon! 
This was a special album for me to record as I've been singing these songs all my life. I feel powerfully drawn to the world of Rodgers and Hammerstein because of the classic American stories and the gorgeous melodies. It's near perfect music. I'm so happy to have these beautiful songs back in my life… and to play them with a rhythm section that's truly a dream come true. Kenny Barron and John Patitucci bring pure musicality and so much heart to every note along the way. Hope you enjoy!!!
---