Hello and thank you for visiting my website! Read more…
Review quote from Albany Times Union | Freihofer Jazz Festival 25 June 2016
"In between, vocalist-pianist Karrin Allyson offered the most subtle set, effortlessly shifting gears from Mose Allison's "Everybody's Crying Mercy" to Rodgers & Hammerstein's "You've Got to Be Carefully Taught" to a syncopated rendition of Joni Mitchell's "All I Want."
New Zealand reviews –
https://jazzlocal32.com/2016/06/08/karrin-allyson-with-tom-warrington-trio/
http://www.stuff.co.nz/dominion-post/culture/80923593/concert-review-wellington-jazz-fest-karrin-allyson
Here's a bit of 'Bye Bye Country Boy' from Greene Space, NYC
5/1/16 – Omaha World Herald's review of our University of Nebraska at Omaha Concert
4/20/16 – Hey Friends! Check out a new video of my song "Some of that Sunshine" from Greene Space—

Looking forward to my show TONIGHT, April 7, at The Greene Space at WNYC/WQXR! I'll be joined by Miro Sprague, Steve Cardenas, Ed Howard, and special guest cellist David Heiss. The show starts at 7 pm. Hope to see you there!
If you're not able to make it, you can catch the live stream on The Jonathan Channel and live video webcast at The Jonathan Channel and The Greenespace Website.
GRAMMY NOMINATED JAZZ
VOCAL ALBUM OF THE YEAR
BUY MANY A NEW DAY / iTunes
BUY MANY A NEW DAY / Amazon
Check PHOTOS tab for shots from GRAMMYS 2016 & more.
"Many a New Day" Reviews:
Associated Press: "Masterful"
USA Today: "Beautifully Nuanced"
NY Times: "She aces the tightrope walk of songbook reverence and jazz-vocal breeziness that often proves elusive on such an album"
DownBeat: "A brilliant album that bridges the worlds of jazz and musical theater"; "Allyson may be the perfect singer to reinterpret Rodgers & Hammerstein for a modern, jazz-aware audience"
JazzTimes: "An Exquisitely Thoughtful Trio Album, it's Also an Important One"
The Sunday Times: (UK)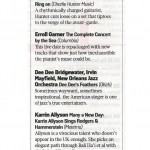 Record of the Year Pick
Jazz Journal (UK):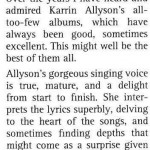 "Allyson's gorgeous singing voice is true, mature, and a delight from start to finish. An absolute must."
MOJO (UK) 
February issue of MOJO
---
jazzpolice.com

City Pages (Minneapolis)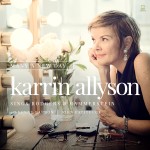 » I'm excited to announce my new album 'Many A New Day: Karrin Allyson Sings Rodgers & Hammerstein' is now available for order on iTunes and Amazon! 
This was a special album for me to record as I've been singing these songs all my life. I feel powerfully drawn to the world of Rodgers and Hammerstein because of the classic American stories and the gorgeous melodies. It's near perfect music. I'm so happy to have these beautiful songs back in my life… and to play them with a rhythm section that's truly a dream come true. Kenny Barron and John Patitucci bring pure musicality and so much heart to every note along the way. Hope you enjoy!!!
---