» Check out Karrin's new gallery of images sent to her by fans, "Fan Fare". 
» Karrin on Women's Media Center Live with Robin Morgan Originally aired Saturday, June 14 at 11:00 a.m. ET on CBS station 1580 AM in Washington, D.C.
» Karrin's TEDxUMKC talk – "Live an artful life".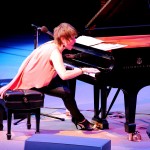 » Photo by Gary Tinnes, at SOKA Performing Arts Center, SOKA University
» March 2014 – New Road Words Published Karrin's Latest News
» March 2014 – The International Review of Music – Review by Don Heckman – Live Jazz: The 60th Anniversary of Jazz at Massey Hall and the Newport Jazz Festival at Disney Hall
» February 2014 – Kansas City's JAM – Cover Story – Jazz Ambassador Magazine – Feb/March 2014 Cover Story
» February 2014 – @TribLive Review by Bob Karlovits Review
» February 2014 – New Road Words Published Karrin's Latest News
» Karrin added to Newport Jazz Festival Lineup (Check Tour Dates for times and locations)
The "Newport Jazz Festival: Now 60″ tour celebrates the great history of the Newport Jazz Festival and its current role as one of the most active presenters of contemporary jazz artists in the world. During the past 10 years, the festival has made news by continuing to be at the forefront of discovering new talent and nurturing the incredible creative community of jazz and related music that thrives today. The title of the tour celebrates the longevity of the festival and its continued relevance. The star-studded ensemble features Anat Cohen, Karrin Allyson, Randy Brecker, Mark Whitfield accompanied by the A-list rhythm section of pianist Peter Martin, drummer Clarence Penn and bassist Larry Grenadier.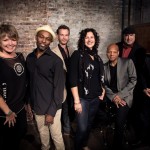 » January 2014 - The University of New Orleans 89.9 WWNO INSIDE THE ARTS - "This week on Inside the Arts, we're talking jazz with singer Karrin Allyson."
» January 2014 - Live Show REVIEW – CATALINA'S BAR & GRILL by Scott Yanow- "…Karrin Allyson remains one of the finest singers in jazz today."
» December 2013 – City Pages,Minneapolis – reviews Yuletide Hideaway- "…a superb song interpreter who can freshen up the most familiar material, as she does on standards like "The Christmas Song" and "Winter Wonderland."
» December 2013 – SomethingElseReviews, syndicated via All About Jazz, Google News, RSS News Feed and more – reviews Yuletide Hideaway- "It's Perfect"
» December 2013 – Wall Street Journal
"Ms. Allyson's notes fly in the air like reindeer and land like snow flakes or baubles upon the tree. Even "Winter Wonderland" and "Let It Snow! Let It Snow! Let It Snow!" seem darker and moodier than ever before."
» December 2013 – Rock critic Jim Pasinski hails Yuletide Hideaway- "Silky smooth with her gentle delivery…"
» December 2013 – Critic Brian Arsenault includes Yuletide Hideaway in his Holiday CD round-up for International Review of Music – "Warm as Nana's quilt…"
» December 2013 – New York Times Review – Holiday Cheer for the Ears
By JON CARAMANICA, NATE CHINEN, BEN RATLIFF and JON PARELES
Published: November 28, 2013
"Karrin Allyson is a jazz singer of sure interpretive ability, and she puts it to good use on a mellow holiday assortment…"
» NEW FESTIVAL DATES ADDED – Make reservations now! (See Tour Dates for details.)
Thursday, June 26 – Montreal Jazz Festival
Friday, June 27 – Ottawa Jazz Festival
Sunday, June 29 – Freihofer Jazz Festival – Saratoga Springs, NY
» December 2013 – DownBeat gives "Yuletide Hideaway" 4 Stars
DownBeat's Digital Edition December 2013
"…she has delivered a sterling holiday album that fans will turn to year after year when the time comes to hang the mistletoe."
» Four-Time Grammy Nominee Karrin Allyson releases "Yuletide Hideaway" November 1 ~
Karrin's first independent release!
A heart-warming collection of holiday songs, old and new from Karrin Allyson. Featuring Chris Caswell, Lee Sklar, Rod Feeman, Todd Strait and Gerald Spaits.
A warm, inviting and original set, this is a recording you'll want to keep close at hand in your collection.
» Karrin in USA Today Monday October 22nd, 2013.
Karrin is one of Elysa Gardner's top 10 highlights for this week's listening: "This Time of Year, Karrin Allyson. A new platter of warm, honeyed jazz from Allyson is reason to celebrate the holidays early: Yuletide Hideaway arrives Nov. 1."
» DownBeat Magazine
61st Annual DownBeat Critics Poll - Karrin Allyson wins Rising Star Female Vocalist - June 2013
» Voice of America – Beyond Category: Karrin Allyson July 2013
Karrin Allyson with Todd Strait (drums), Steve Cardenas (guitar), Ed Howard (bass). Interviewed by Eric Felten (trombone). A 30 minute video interview with 4 Karrin tunes. -
» Kansas City Jam Magazine – Review of Yuletide Hideaway
"Let's put it out there, quickly: Karrin Allyson's Christmas record Yuletide Hideaway is superb." – Roger Atkinson