Friday, September 30, 7pm PST, Karrin will be with Jeff Johnson and Tony Foster at the Orcas Center – Show will be live streamed on their website orcascenter.org   *no- charge – donation only  (2 sets)

Coming December  16, 2022 — I am honored to be awarded with an Honorary Doctorate from my alma mater, University of Nebraska at Omaha.

Starting in Fall 2022, I'm happy to be teaching again at University of Hartford's Hartt School of Music
Karrin Allyson has been a major jazz singer at least since her first Concord recording nearly 30 years ago. After all of this time, she is still at the peak of her powers. At Feinstein's at Vitello's, with the backing of pianist Miro Sprague, bassist Dave Robaire, and drummer Dan Schnelle, she performed a wide-ranging show that consisted of some of her favorite songs.

She began the night by singing "Autumn Leaves" as a ballad in French before cooking in English. Karrin Allyson found fresh things to say on "Blackbird" (with started with the famous "All Blues" riff),  two Mose Allison songs ("Stop The World" and "Ask Me Nice"), Bonnie Raitt's "Valley Of Pain," Sippie Wallace's "Women Be Wise," and "Surrey With The Fringe On Top" (a witty version with many key changes). Switching to piano, she sang a song apiece from South Pacific, The King And I, and My Fair Lady. Joe LaBarbera sat in on drums for "My Little Boat," and the singer concluded with the always fun quacking song "Little Duck."
Word to the wise: Always see Karrin Allyson when she comes to town. She is a delight.

_______________________________________

________________________________________
I hope you're able to enjoy some quality time with your loved ones, yourselves, or a quiet walk in the woods or city.

I love this time of year, the days may be getting shorter and the wind may howl colder every night BUT— it's also a time of year when the best parts of the human spirit arise — generosity, understanding others, and sharing company however we can. Let's hold onto that!

We have many new dates coming up and would love to see you, also some virtual opportunities if you can't join us in person.

Coming up LIVE

: (All dates with ticket info on 

karrin

.com

 )

Dec 4  7PM — Manchester Jazz Fest (Hartford CT— you can also stream this event!)  

myshul.org

Dec 31 & Jan 1  Tarrytown, NY, Jazz Forum *Bring in the New Year with us!  

jazzforumarts.org

Jan 25 – 29 (Tues— Sat) NYC, BIRDLAND!! "Silver Lining; Karrinsings the songs of Bonnie Raitt"  birdlandjazz.com

Feb 6 (Sun) Phoenix, AZ, Musical Instrument Museum mim.org

VIRTUAL:

Dec 4 Manchester Jazz Fest 7PM  (also LIVE)  

myshul.org

Dec 17, Jan 21, Feb 18 @ 6PMET The B&K Cafe Radio Show wwfm.org (archived shows there too and on karrin.com )

Read New Road Words here.

With Love,

_________________________________

To listen to past shows:

2) Go to 'About Us'

3) Go to 'Our Programs from A-Z'

4) Click on B&K Cafe
SHOULDER TO SHOULDER:
CENTENNIAL TRIBUTE TO WOMEN'S SUFFRAGE

By Karrin Allyson Sextet
Physical Copies are now available now on Amazon
Willard Jenkins piece on Shoulder to Shoulder
________________________________________________________
Female focus // Shoulder to Shoulder:
CENTENNIAL TRIBUTE TO WOMEN'S SUFFRAGE

"Karrin Allyson's distinctive voice, without calling attention to itself, stands out among high voltage company, also redolent with a recognizable determined attitude that is an engine for this unique undertaking. A nod to rap done by the female performer known as Rapsody adds another modern spin to the wrap-up of the Allyson original "Big Discount" that slyly references the gender wage gap. This centennial consciousness-raiser gets my enthusiastic "yes" vote."
____________________________________________________________________________________
Review by George W. Harris from Jazzweekly.com
IT GETS MY VOTE…Karrin Allyson Sextet: Shoulder To Shoulder

"While many of the songs are reflective of the ragtime era of the social change, the team of Ingrid Jensen/tp, Mindi Abair/as, Helen Sung/p, Endea Owens/b, Allison Miller/dr and guests like Kait Dunton/org are able to mix strings to hip jazz as on the thriving "Columbia's Daughters" with Allyson in rich tone and delivery. Vaudevillian pre-jazz supports Veronica Swift on "Anti Suffrage Rose" while modal and free spirited modern grooves pulsate across on "I'll Be No Submissive Wife." Readings of anti-voting petitions by Kurt Elling or pro-suffrage Frederick Douglas by Belafonte put the movement in perspective, while Lalah Hathaway's "Sojourner Truth" speech  and Rosanne Cash's reflections by Susan B. Anthony being quite poignant."
____________________________________________________________________________________
I hope you're able to enjoy some quality time with your loved ones, yourselves, or a quiet walk in the woods or city.

I love this time of year, the days may be getting shorter and the wind may howl colder every night BUT— it's also a time of year when the best parts of the human spirit arise — generosity, understanding others, and sharing company however we can. Let's hold onto that!

We have many new dates coming up and would love to see you, also some virtual opportunities if you can't join us in person.

Coming up LIVE

: (All dates with ticket info on 

karrin

.com

 )

Dec 4  7PM — Manchester Jazz Fest (Hartford CT— you can also stream this event!)  

myshul.org

Dec 31 & Jan 1  Tarrytown, NY, Jazz Forum *Bring in the New Year with us!  

jazzforumarts.org

Jan 25 – 29 (Tues— Sat) NYC, BIRDLAND!! "Silver Lining; Karrinsings the songs of Bonnie Raitt"  birdlandjazz.com

Feb 6 (Sun) Phoenix, AZ, Musical Instrument Museum mim.org

VIRTUAL:

Dec 4 Manchester Jazz Fest 7PM  (also LIVE)  

myshul.org

Dec 17, Jan 21, Feb 18 @ 6PMET The B&K Cafe Radio Show wwfm.org (archived shows there too and on karrin.com )

Read New Road Words here.

With Love,

_________________________________________

Dear Friends —

Here we are in September already! As we start coming out of this hot and challenging summer, I am so very grateful for you— that we have remained connected, and been able to share music or hello's where and when we can. Music can be a balm for all our joys and sorrows —

Thanks for joining in on myKAZoom!shows — I hope you've enjoyed the themes! I'm taking a bit of a break with those now until *December 12, 5PMEST.

The B&K Cafeis going strong and besides our stalwartwwfm.orga few other stations have added: Sonora CA, Prairie Public Radio, St. Louis & Interlochen —thank you to all of them!

LIVE shows!We had a lovely time in Tarrytown at Jazz Forum, Whately MA, and Estes Park, Colorado — also got to spend some time in those beautiful areas.

I've got 2 excitingLIVE dates in NYCcoming up at a beautiful new club calledChelsea Table & Stage Sep 11 & 18(2 Saturdays). Our show is called"Let's Duet"with one of my favorite musicians on the planet —Gil Goldstein— he's played with everyone from Pat Metheny, Esparanza Spaulding, Al Jarreau, you name it — his keyboard skills are un-matched — and of the 3 CD's we've recorded together (From Paris to Rio,Imagina; Songs of BrasilandWild For You) we will be taking a musical, international trip together — you never know if you'll find Gil at the accordion and Karrin at the piano, or ? Please join us —Let's Duet!

The rest of the fall is busy -— For October:Minneapolis,Wisconsin,Kansas City! ,Omaha,Chicago, For end of October /early November:LA,Half Moon Bay,Oakland, andSeattle. Back to the east coast forSaratoga Springs,Boston,Hartford, and the beat goes on for 2021 ! Into the New Year (January 25 – 29) I'll be back atBirdlandfor a special week;Silver Lining; Karrin Allyson sings songs of Bonnie Raitt!

I will see you SOON and I wish you all the very best.

With Love,
Karrin

______________________
Billboard exclusive story (here)
_________________________
 SOME OF THAT SUNSHINE
Karrin's first all-original album available on iTunes, Amazon, CDBaby
Even those casually familiar with vocalist and pianist Karrin Allyson's 26-year recording career surely appreciate her tremendous versatility, exploring everything from French chansons to Brazilian jazz, from blues to pop, from Coltrane to Rodgers and Hammerstein with unerring panache. With Some of That Sunshine, Allyson unleashes her equally impressive dexterity as a songwriter. Sharing keyboard duties with Miro Sprague and Chris Caswell (also the disc's producer), alongside bassist Jeff Johnson and drummer Jerome Jennings, she fills the album with 13 finely crafted originals that variously suggest the spiritedness of Carole King, the perspicacity of Paul Simon, the warmth of Irving Berlin, and the bite of Bob Dorough or Dave Frishberg.

Allyson and company travel a serpentine route, venturing from the philosophical optimism of the title track, featuring violinist Regina Carter, to the funkified heartbreak of "Wish You Were Mine," gentle caress of "As Long As I Know You Love Me," and, with its softly powerful examination of a long-term relationship's splintering, the sorrowfully reflective "Happy Now." Saxophonist Houston Person steps in to help define the romantic disillusion of "Just as Well" and the love-the-one-you're-with verve of "Right Here, Right Now." Bass legend Lee Sklar drives the darkly disenchanted "One of These Days." Allyson adds dual perspectives on social change, first with "Shake It Up," a rousing ode to stepping forward and, with Carter, the closing "Big Discount" a stirring rallying cry that encompasses pay equity, shattering glass ceilings, and the #MeToo movement.
FOUR-STAR DOWNBEAT REVIEW/EXPANSIVE INTERVIEW IN M MUSIC & MUSICIANS MAGAZINE, AS FIVE-TIME GRAMMY NOMINEE KARRIN ALLYSON CELEBRATES RELEASE OF NEW ALBUM OF ORIGINAL MUSIC, "SOME OF THAT SUNSHINE"  Jazz Times, Jazziz, M Mag Run Exclusive Song Premieres U.S. Tour Extended

DownBeat Magazine – ****Four-star album review By Bob Doerschuk, 9/18 print edition:

There are so many ways to savor Karrin Allyson's artistry. Start with her voice, its rare clarity and resonant timbre. She phrases impeccably, staying close to the melody, except on the occasional scat chorus. Everything she sings seems to rise from a smile. The flip side is that , more than most of peers, she shies away from any blues influence. Here and there she'll adorn the melody with a flat-third filigree, though more as a sprinkle of spice than a fundament of her style. These qualities make every moment on Some Of That Sunshine unmistakably Allyson. As does her writing. Each track is concise, built on an unvarying verse/chorus/bridge structure, her band providing perfect support. The solos are not about stretching out; their purpose is to frame the lyric and bring ou the luster in Allyson's performance. Houston Person does this by complementing her nearly transparent purity with his smoky tenor on "Just As Well." In contrast, violinist Regina Carter mirrors Allyson's playful feel on the title cut by plucking the first verse of her solo. Allyson keeps this same focus through the last two songs on the album. From its first few notes, "You Don't Care" surprises with its old-school country vibe and compositional simplicity. It's easy to imagine it being played on the Grand Ole Opry stage- not today, but maybe 50 years ago. And the #metoo message of "Big Discount" couldn't be more timely, though even here Allyson maintains her tuneful vibe.

JAZZ TIMES EXCLUSIVELY PREMIERED THE SONG "JUST AS WELL" Listen to it here:

On her new album, Some of That Sunshine, to be released by her own label Kasrecords on Aug. 3, singer Karrin Allyson unveils a skill that many of her listeners may believe is new for her: songwriting. But it turns out that she was already engaged in tunesmithery well before the release of her debut album in 1992—she's just never presented her work to the public in this way before. "As a young musician I was writing songs in a variety of styles," Allyson says, "even before I discovered jazz. I loved the singer/songwriters of my youth and I followed their influence. Now, after years of performing all sorts of jazz and Brazilian and French music, I'm coming back to where I started." JazzTimes is pleased to premiere one of Some of That Sunshine's 13 original tracks, "Just as Well," which shows that Allyson is as talented at writing a classic-sounding ballad as she is at vocally delivering one.

M Music & Musicians Magazine – Expansive Interview with the Publisher, plus Exclusive Song Premiere of 'Nobody Said Love Was Easy'. By Merlin David, 8/2018 Read the full feature and listen to the song, here:

JAZZIZ EXCLUSIVELY PREMIERED "SHAKE IT UP" Listen to it here: 

New York City Jazz Record:

Five-time Grammy nominee Karrin Allyson, best known for her husky voice and versatility as a singer, has released her first album of originals, Some Of That Sunshine (Kasrecords). Allyson the songwriter, true to form, moves blithely from one feel to another, be it a blues ("Nobody Said Love Was Easy"), a swing ("Some Of That Sunshine"), or a pop tune ("As Long As I Know You Love Me"). A welcome next step for this enticing musician.
 RADIO MOVES

26* to 6* to 6* to 2* to 2* to 2* to 5 to 4* JazzWeek!!

26* to 25* to 10* to 9* to 6* to 10 to 6* to 13 NACC College Jazz Top-30

2 Adds:

| | | | |
| --- | --- | --- | --- |
| MI | YPSILANTI | WEMU | A |
| NY | GARDEN CITY | WHPC | A |

TV Appearances

Sacramento

CBS-TV's Good Day Sacramento

 8:45AM PST

Rochester NY ABC/FOX TV Rochester  Morning Show 
From GinaLovesJazz / Germany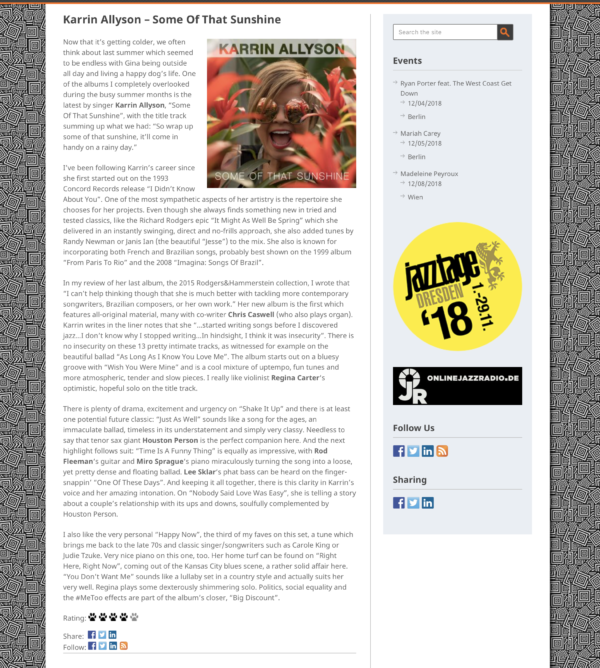 "13 finely crafted originals that variously suggest the spiritedness of Carole King, the perspicacity of Paul Simon, the warmth of Irving Berlin, and the bite of Bob Dorough or Dave Frishberg." – Jazz Times, Editor's Pick
"Rare clarity and resonant timbre" – Downbeat
"Everything she sings seems to rise from a smile" – Downbeat